Friday, January 17, 2014
Samaritan Health Clinic launches new brand and website.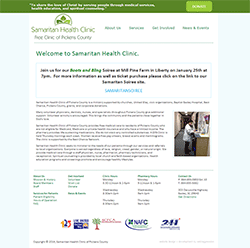 Easley, SC - Samaritan Health Clinic, a free health clinic serving Pickens County, SC, has launched a new website. The website reflects the non-profits new image and logo. The clinic offers free medical care to residents of Pickens County who are not eligible for Medicaid, Medicare or private health insurance and who have a limited income.
The new website encourages interaction and volunteerism. In addition, the site uses a combination of modern navigation, search engine optimization and web design best practices to get visitors to the information they are looking for.
The goal of the redesign was:
Encourage participation.
Feature the new brand and logo.
Improve search engine visibility.
Provide easier and better defined navigation.
Allow SHC to update and manage content.
The website was programmed in ASP.net using MS SQL server database. SHC updates content using a content management system and uses best practices for search engine optimization. web|aggression provided design, development, CMS, SEO and hosting.