Friday, October 15, 2010
MK Fundraising and web|aggression launch redesigned website.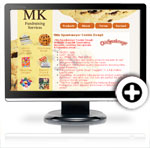 Greenville, SC - MK Fundraising Services, a service company which helps schools, Churches and other organizations in raising funds, announces the launch of their newly redesigned website. Michele, the owner of MK Fundraising, has been helping organizations raise funds for over 11 years. She says that she, "specializes in providing unparalleled customer service and trusted fundraising products." MK Fundraising serves over 300 different clients throughout the Upstate of South Carolina.
The goal of the redesign was:
Not just featuring the products that are offered, but making them pop.
Enhance the aesthetic and better integrate the logo and brand into the design.
Streamline navigation for easier navigation and better search engine indexing.
Allow Michele to update the content of the web site from anywhere.
Michele came to web|aggression with a template website that did not meet her growing needs. The redesigned website has easy navigation and the latest in search engine optimization techniques. The content of the site includes company information, detailed information on products offered, downloadable forms and contact information all updatable using our easy content management system.
web|aggression provided the website design, development, content management system, search engine optimization services, as well as the hosting of the website. The website was programmed in ASP.net using MS SQL server database.