Thursday, September 23, 2010
It is our pleasure to annouce the launch of a new website for Ryan Beasley, Attorney at Law.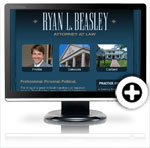 Greenville, SC - We are very pleased to launch the brand new web presence for Ryan L. Beasley, a Greenville, SC criminal lawyer. Ryan is a trial lawyer and provides criminal defense and civil litigation services. Ryan needed a website that was well placed in the search engines, easy to navigate and easy to update. The new website features Ryan's profile, legal services, contact / directions and an extensive resources page. The site also offers the latest in search engine optimization and a custom content management system (CMS).
Web|aggression provided the website development, search engine optimization and the hosting of the website.
Ryan L. Beasley, Attorney at Law