Wednesday, August 11, 2010
web|aggression is happy to announce the launch of Carolina Search Service new website.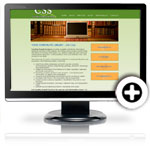 Greenville, SC - We are pleased to launch a brand new web presence for Carolina Search Services. Carolina Search Services, "provides targeted and timely information research services to the science, technology and business communities" and has your success as their goal. CSS has over thirty years of experience in the custom research, fact finding, literature searches and document delivery.
The website features a clean, natural layout, easy navigation and the latest in search engine optimization techniques. The content of the site includes company information, list of services with examples, rates, testimonials and contact information.
web|aggression provided the website design, development, search engine optimization services, as well as the hosting of the website.
Carolina Search Services