Friday, August 6, 2010
web|aggression is pleased to launch a brand new website for The Gateway Clinic of Chiropractic.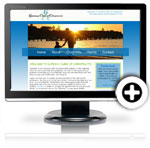 Laurens, SC - We are excited to launch the new web presence for The Gateway Clinic of Chiropractic. Dr. Snider contacted us wanting a website that would be easy to find, easy to navigate and with a clean design. The new website features information about Dr. Snider and the practice, informative videos about chiropractic medicine, patient forms and contact information. The site offers the latest in search engine optimization.
Web|aggression provided the website design, development, search engine optimization and the hosting of the website.
The Gateway Clinic of Chiropractic