Thursday, June 10, 2010
Todd Rudisill, Inc. Landscape and Design launches new re-designed website.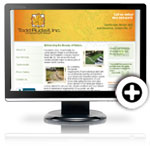 Greenville, SC - Todd Rudisill, Inc., a landscape, design and lawn maintenance company, has launches its new re-designed website. The new site provides improved navigation, rich content, customer testimonials, a dynamic photo gallery and a fresh new look. The site also features improved search engine optimization (SEO) and a custom content management system (CMS).
The website was programmed in ASP.net using MS SQL server database. The photo gallery was done using Lightbox (JavaScript) modified with a dynamic backend integration.
The goal of the redesign was:
Improve search engine visibility by optimizing the content and linking structure.
Allow Todd and his staff to update the content of the web site from anywhere.
Enhance the aesthetic and better integrate the logo and brand into the design.
Streamline navigation for easier navigation and better search engine indexing.
Since 2001, Todd Rudisill, Inc. has provided landscape design, lawn maintenance, drainage, irrigation installation, mulching, cement paver installation, outdoor living space installations and many other services. Based in Greenville, South Carolina, Todd operates in the upstate of South Carolina and Western North Carolina.
web|aggression provided the website design, development, programming and content development services for this project.
Todd Rudisill Landscape, Design and Maintenance