Monday, February 15, 2010
We are please to announce Kelly Imaging Group, a mobile provider of cardiac and vascular ultrasounds, has selected web|aggression to provide their new web presence.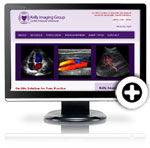 Greenville, SC - Kelly Imaging Group has selected web|aggression to provide web design and development services for their new business. Kelly Imaging Group provides mobile cardiac and vascular ultrasound services. The group will also provide sonographer staffing services and will operate in South Carolina, North Carolina and Georgia.

The new website will be fully dynamic using a custom content management system (CMS) and will be fully search engine optimized (SEO).