Friday, September 26, 2008
Eastside Transportation Services and web|aggression are excited to annouce the launch of the ETS website.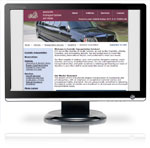 Greenville, SC - Ten years after the original launch of one of web|aggressions first projects, Eastside Transportation Services is excited to announces the launch of their new redesigned website. Featuring a fresh new modern design and a much improved Content Management System (CMS), a more robust database solutions and more Search Engine Optimization (SEO).

ETS serves the Upstate of South Carolina, as well as the Charlotte (CLT), Atlanta (ATL), Columbia, Asheville (AVL), and surrounding airports. They are located next to Greenville Spartanburg International Airport (GSP), well positioned to meet any transportation needs.

This website design is fully dynamic and allows ETS staff to update the features of the site themselves. The site uses ASP, MS SQL database and web|aggression SiteAdmin Content Management System feature. During the development web|aggression built in extensive Search Engine Optimization to assist in targeting keywords to drive traffic.

This website has been subsequently redesigned.