Thursday, November 15, 2007
web|aggression is pleased to announce the launch of MyManureVac.com, a fully dynamic web site with secure ecommerce.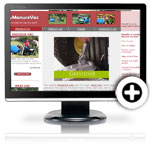 Travelors Rest, SC - MyManureVac.com, a division of Happy Trails Trailers, offers pasture, stable and paddock vacuums. The vacuums, made in the USA, keep pastures clean for the health of your horses.

This website design is fully dynamic and allows Happy Trails to update the features of the site themselves. The site uses .NET, MS SQL database and a SiteAdmin Content Management System feature. Additionally, an ecommerce was developed to process orders securely online. We used extensive SEO (Search Engine Optimization) to help Happy Trails compete immediately in the major search engines.