Thursday, November 23, 2006
web|aggression annouces the launch of TradeGamesWithMe.com web site.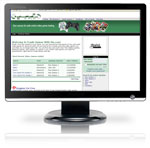 web|aggression is excited to announce the launch of TradeGamesWithMe.com. Trade Games with Me is a web site for the safe and secure trading of video games online.

This website design is fully dynamic and allows Trade Games with Me to update the features of the site themselves. The site uses ASP.NET, MS SQL database and web|aggression's SiteAdmin Content Management System feature and built in Search Engine Optimization.

This site is no longer active.