Thursday, May 18, 2006
Piccadilly Precision Engineering Co. announces the launch of their newly redesigned web site.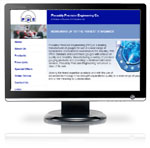 Piccadilly Precision Engineering (PPE) is a leading manufacturer of gauges for use in a wide range of applications. Dedicated to excellence in the industry, PPE offers standard and customised gauges with a focus on quality and reliability. Manufacturing a variety of precision gauging products and providing customised calibration services, Piccadilly Precision Engineering remains in a class of its own.

The web site, designed and developed by web|aggression, is fully dynamic and allows PPE to manage and update the content of the site themselves using SiteAdmin content management system.

This website has been subsequently redesigned.