Friday, August 12, 2005
Riverside Property Management, Inc. launches RiversidePM.com.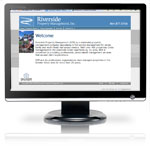 Greer, SC - Riverside Property Management (RPM) is a residential property management company specializing in full-service management for single-family and multi-family real estate owners.

The web site, designed, developed and hosted by web|aggression, is fully dynamic and allows Riverside to manage and update the content of the site themselves.

This website has been subsequently redesigned.