Friday, May 21, 2004
Pelter Gallery launches their dynamic web site to display their art and exhibitions.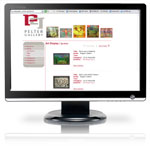 Pelter Gallery has launched their fully dynamic web site. Built on ASP and a SQL server database by web|aggression, Pelter has the ability to update and modify their web site using SiteAdmin functionality.

This site is not currently active.